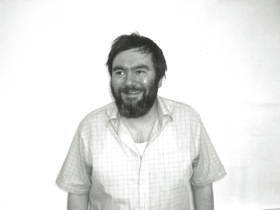 Aidan Moffat
AIDAN MOFFAT & THE BEST-OFS is the new open-door club fronted by ex-Arab Strap musician, vocalist and all round miserablist Aidan Moffat, where anyone with a talent for something he likes the sound of is welcome.
With no traditional line-up and a rotating membership policy in place, the Best-Ofs released How To Get To Heaven From Scotland via Chemikal Undergeround on Valentine's day 2009. All about love, this album is about as playful and cheerful as Aidan gets.
"I decided it was time that I attempted to write some positive love songs, which is incredibly difficult to do if you want to avoid cliché and repetition," says Aidan. "You have to try to make them both personal and universal, which can be quite difficult; you have to try to forget other people are going to hear them while also making sure it will appeal to an audience. There's a lot more sunshine and happy endings on this record, plus a song about my grandfather's non-existent ghost and a lullaby about the terror of impending fatherhood. Hopefully I've managed to keep it at least diverting for the 37 minutes it lasts."
"His disjointed pop vignettes and ruminative lullabies are underpinned, as ever, by excellent reflections on affairs of the head, hind quarters and heart." (PLAN B)
"...a timely, very tuneful reminder that there's more to Valentine's Day than those tired Hallmark clichés." (THE LIST, 4/5)