press reviews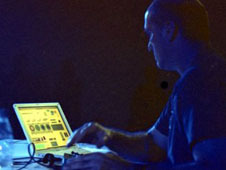 Kim Cascone
sound 2008,
various venues over North East Scotland
Written by David Hynes, The Skinny Magazine
reproduced with permission
Aberdeen and the North East present an eclectic, month-long celebration of contemporary music.
Sound 2008 is a festival dedicated to new music based in various parts of North East Scotland (although it is concentrated around Aberdeen University) and is one of Scotland's true hidden gems in terms of exciting contemporary events. Now in its fourth year, Sound is expanding rapidly, partly thanks to some generous funding from the Scottish Arts Council. The 2008 installment - running from 21 October to 17 November - looks set to be the best yet with an extraordinary line-up of eclectic artists and musical genres spread over 70 events throughout the region. The emphasis is on contemporary music, but this is a broad sword and there really is something for everyone.
This year's a bit special, as the festival has two distinct themes. The first is a celebration of the saxophone in all its versatile glory, with world-class musicians such as Rob Hall and Martin Kershaw displaying their talents. The second is a celebration of electro-acoustic music, culminating in a 45-minute set by the renowned Kim Cascone, who contributed to the soundtrack to David Lynch's Twin Peaks. In these themes, Sound 2008 is highly distictive and should appeal to all ages and musical tastes. There's also a DanceLive! element incorporated in the festival for the techno-junkies amongst us. With its combination of breadth and excellence, Sound 2008 attempts to bring the communities of the North East together in one month-long celebration of music.
Neither dance event nor hippie retreat, Sound is all about the music, and acts as an umbrella for a range of concerts, talks, workshops and performances. It is a festival for everyone, and this inclusivity is sure to help it rocket in prominence over the coming years.
published on 8 October 2008
written by

Dave Hynes

for The Skinny

Original article reproduced here with kind permission.