photograph © David Costa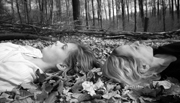 Falling Light
Janis Claxton Dance & the Edinburgh Quartet
Falling Light is a program of emotionally compelling and musically defined dance, with two sublime new pieces set to works by Bach and Polish composer Henryk Gorecki.
An international cast of dancers will perform with the Edinburgh Quartet in the Scottish Premier of Songs Are Sung, Gorecki's latest String Quartet, with soloist Michael Beeston performing Bach's Partita No 2 in d minor, transcribed for Viola.
Recently created to Gorecki's String Quartet no 3 (Songs are Sung), the choreography draws upon the richly layered, rhythmically complex and emotionally intense musical score, to create a passionate and heartfelt performance. In this piece Claxton and her dancers embody the choreographer's innate ability to express a large spectrum of the human condition. From intense isolation and loneliness to searing images of hope and revelation, this powerful quintet reveals the companies emotionally resonant dancing.
2008-10-25T19:30
Saturday 25 October 2008, 7.30 pm
Cowdray Hall, Schoolhill, Aberdeen
Tickets: £8, £6 conc, £4 (student & under 18s on the door)

Promoter: danceLive!