press reviews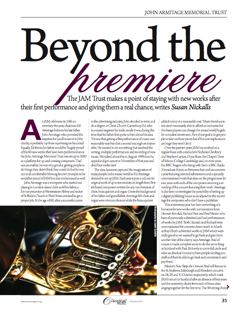 Beyond the premiere
Written by Susan Nickalls, Classical Music magazine
Reproduced by kind permission of Classical Music magazine
The JAM Trust makes a point of staying with new works after their first performance and giving them a real chance
As JAM celebrates its 10th anniversary this year, chairman Ed Armitage believes his late father John Armitage, who provided the impetus for (and his name to) the charity, is probably 'up there squirming on his cloud'. Equally, Ed thinks his father would be 'hugely proud' of the 60 new works that have been performed since the John Armitage Memorial Trust was set up in 2000 as a platform for up-and-coming composers. 'Dad was an enabler, he was very good at getting people to do things they didn't think they could do but he was not at all comfortable blowing his own trumpet so he would be proud of JAM but also embarrassed as well.'
John Armitage was a trumpeter who started out playing in London dance clubs until his father, a former precentor at Westminster Abbey and rector of St Bride's Church in Fleet Street, insisted he get a proper job. At the age of 60, after a successful career in the advertising industry, John decided to retire and do a degree at Christ Church Canterbury. Ed, who is a sound engineer by trade, recalls it was during this time that his father first spoke to him about his idea. 'He saw that getting a first performance of music was reasonably easy but that a second was nigh on impossible. He wanted to do something that involved the writing, multiple performances and recording of new music. We talked about this in August 1998 then he upped and got cancer in November of that year and died four weeks later.'
The idea, however, captured the imagination of many people in the music world so Ed Armitage decided to set up JAM. Each year it puts a call out for original work of up to ten minutes in length from British based composers written for any combination of choir, brass quintet and organ. Given the background of his father and grandfather, Armitage felt choir and organ were obvious choices while the brass quintet added colour at a reasonable cost. 'Most choral societies aren't necessarily able to afford an orchestra but five brass players can change the sound world hugely for a modest investment. Part of our goal is to get people to take on these pieces but if the cost implications are huge they won't do it.'
Over the past ten years JAM has worked on a regular basis with conductors Nicholas Cleobury and Stephen Layton, Onyx Brass, the Chapel Choir of Selwyn College Cambridge and, on even years, the BBC Singers who bring with them a BBC Radio 3 broadcast. It puts on between four and six concerts a year featuring selected submissions and a specially commissioned work that stays on the programme for two years with each of the composers receiving a recording of the concert featuring their work. Armitage is also keen to investigate the possibility of setting up a digital publishing house as an adjunct to the recordings for composers who don't have a publisher.
This anniversary year has been something of a bonanza for new works with commissions from Hannah Kendall, Richard Peat and Paul Mealor who have all previously submitted and had performances of works by JAM. 'Both Hannah and Richard were commissioned for concerts down south in March as they'd both submitted works to JAM which were really good so we wanted to go back and give them another bite of the cherry,' says Armitage. 'And of course it made complete sense to do the same thing in Scotland with Paul. It's lovely to come full circle and what an absolute honour to have people sending you stuff and then be able to go back and commission and pay them.'
Mealor's Now Sleeps the Crimson Petal will feature in the St Andrews, Edinburgh and Aberdeen concerts on 28, 29 and 31 October respectively, which mark JAM's return to Scotland after an absence of four years and the university choirs from each of these cities singing together for the first time. The 90-strong choir, made up of students from the University of Aberdeen Chamber Choir, the Edinburgh University Chamber Choir and the University of St Andrew's Chapel Choir, will be joined by Glasgow-based Thistle Brass (all RSAMD graduates), St Andrews-based organist Tom Wilkinson and conductor Michael Bawtree, who works at the RSAMD. The programme also features the Scottish premieres of Tarik O'Regan's 2010 JAM commission The Night's Untruth and Gabriel Jackson's 2008 JAM commission The Spacious Firmament I & II alongside James MacMillan's A New Song, Exsultet and Gaudeamus in loci pace for solo organ.
Armitage is delighted to be presenting brand new repertoire to Scottish audiences as well as working for the first time with locally-based musicians. 'We're almost starting afresh in Scotland and I really like the feeling of doing this up here. The Thistle boys and girls are stepping into the breach and it's a much bigger chorus than we would normally work with but it's tremendously exciting. It's expensive for a charity operating on a shoestring to bring people up to Scotland which is why we haven't been in such a long time, but a number of friends and benefactors from there give us money each year so quite understandably they want us to pitch up. Working with Scottish-based people makes life financially a lot easier - the three choirs involved are not charging for their services - so hopefully we can make it a more regular event in the future.'
The repertoire for the Scottish concerts poses a challenge for Bawtree, as do the logistics. The conductor says he will be spending much of October 'on the train' visiting the three choirs. 'I'll be zipping around rehearsing the choirs independently for individual rehearsals and then we will meet for a day in St Andrews the week before the concerts to put everything together with the brass and organ. Each choir will have a different quality and as we're near the beginning of an academic year, there will be a whole new intake - for instance half of the Edinburgh choir will be new - so it will be a fast learning curve for everybody.'
Bawtree is excited to be conducting new repertoire rather than the more traditional bot-boilers like Verdi's Requiem which would have been a much safer bet for such an ambitious collaboration. As conductor of the Edinburgh Royal Choral Union he too commissions new works such as Judith Bingham's Shadow Aspect which will receive a further performance in November. It was Bingham who provided the link between Bawtree and Ed as she has been commissioned by JAM in the past and is a member of their selection panel along with Cleobury, composer Timothy Jackson, trombonist Eric Crees, Director of Music in Chapel at Selwyn College Sarah MacDonald, Tallis Scholars founder member and director of music at St Bride's Robert Jones and senior producer for the BBC Singers Michael Emery.
Each year the JAM panel sifts through between 60 and 70 submissions to choose new works to complement the existing commission on the programme, says Armitage. 'Some are discarded quite quickly so we usually get to a point where there are around ten pieces in contention. We try and mix it all up otherwise it just becomes a choral concert, although there's nothing wrong with that, but we've got the opportunity to do much more. We can throw in pieces for quintet alone or solo organ and we can chuck solo instruments into different places and have real fun with the programming.' Given that audiences are often terrified of new music, Armitage has been delighted by the response to JAM concerts.
He is now looking at the possibility of a JAM-umbrellaed music festival in Kent following sell-out concerts there three years in a row. Initially he wanted to perform in Hythe because of Paul Patterson's commission The Fifth Continent about Romney Marsh. According to the Ingoldsby Legends, geographers divided the world up into Europe, Asia, Africa, America and Romney Marsh, laughs Ed. 'Romney Marsh is a bit of a barren outpost but we wanted to perform this piece there because of the fifth continent connections. We expected two men and a dog but we had 300 people and sold out, which for new music is quite a big audience. We thought we better go again the next year and bang, it was another sell out, so it wasn't a mistake! Then in March we broadcast a concert on Radio 3 from there which also sold out.'
It would seem the good folk of St Leonard's, Hythe were not easily scared off and JAM has been invited to go back and close their festival next year which will be opened by Tasmin Little. Armitage is clearly delighted by the various spin-offs created by JAM, even if the organisation does not always benefit directly. He recently had a call from a choir keen to perform Thoughts scribbled on a blank wall, the 2007 JAM commission from Adam Gorb set to a text by Ben Kaye based on memory images provided by former Beirut hostage John McCarthy. It was first performed in Exeter Cathedral and is one of the JAM commissions Armitage would like to revisit and record.
'NMC records are considering doing a JAM record and I would really like Thoughts to be on it. It's such an interesting piece but I feel we've not yet completely done it justice. The bass soloist sings John's words which are juxtaposed with a Broadway quartet. The BBC Singers who originally performed this are brilliant but not very Broadwayesque, so I would like to find four young singers from one of the performing art colleges to take on that role.'
Already in the bag, though, is a recording Armitage made, as part of a collaboration with Salisbury Cathedral, of the seven recitals in the 2010 organ series, each featuring a work by a living British composer. 'The way things spin off is incredible and difficult to quantify as there are so many things fizzing around the outside of JAM. For instance following our March concert the commissioned composer started mentoring some of the other ones - you could see it through the flurry of activity on Facebook, which is absolutely fabulous.'
The more established composers such as O'Regan, Bingham and Gabriel Jackson also act as unofficial ambassadors for JAM and Armitage believes there is the potential to involve them and other supporters in a big educational project. This would give six amateur choirs the opportunity to develop a new work with a composer, ideally, says Armitage, someone on the way up like Kendall or Peat. 'They will learn a lot by working with their choir, the choirs will learn a lot working with their composer as will the conductors of these amateur music societies, who are often not terribly well-versed in contemporary music. We would then have a group of people like Nick Cleobury, Gabriel Jackson and Judith Bingham who would go around the six choirs and work with the composers and choirs so everyone benefits.'
This would culminate in a concert where the choirs would perform their own pieces as well as a JAM commission en mass, something like Jonathan Dove's The Far Theatricals of Day for choir, organ brass and SATB soloists, suggests Armitage. 'It's not a difficult sing and is immensely effective. I love the idea of throwing together maybe a kids choir, a good amateur choir, each with a different quality, standard and experience of choirs. Everyone involved is going to benefit.'
But projects like this are expensive and so far JAM's activities are largely funded by supporters, benefactors and trusts with no funding, as yet, forthcoming from any of the government-funded arts agencies. Although the charity which was originally meant to take a month of Armitage's time now consumes between seven and eight months of his year, he has no regrets in taking on the task of overseeing his father's inspired and valuable legacy.
This article has been reproduced by kind permission of Classical Music magazine. For more news and information on the classical music world, please visit www.classicalmusicmagazine.org