press reviews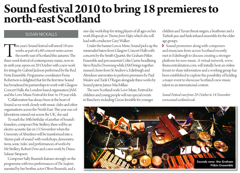 Sound festival 2010 to bring 18 premieres to north-east Scotland
Written by Susan Nickalls, Classical Music magazine
Reproduced by kind permission of Classical Music magazine
This year's Sound festival will unveil 18 new works as part of a 60-concert series across the north-east of Scotland this autumn. The three-week festival of contemporary music, now in its sixth year, opens on 20 October with a new work for strings by Gabriel Jackson performed by the Red Note Ensemble. Programme coordinator Fiona Robertson is delighted that for the first time Sound has broadened its partnerships to work with Glasgow Concert Halls, the London-based organisation JAM and the Love Music Festival for four-to 19-year-olds.
'Collaboration has always been at the heart of Sound as we work closely with music clubs and other organisations across the North East. This year our collaborations extend out across the UK', she said.
To mark the 50th birthday of another of Sound's founders, composer Pete Stollery, there will be an electro-acoustic fair on 13 November when the University of Aberdeen will be transformed into a 'theme park of sound' with workshops, demonstrations, sonic 'rides' and performances of works by Mr Stollery, Robert Dow and a new work by Diana Salazar-Simpson.
Composer Sally Beamish features strongly on the programme with two performances of The Seafarer, narrated by her brother, actor Oliver Beamish, and a one-day workshop for string players of all ages on her work Rhapsody on Themes from Hafez which she will lead with conductor Gary Walker.
Under the banner Less is More, Sound picks up the minimalist baton from Glasgow Concert Halls with concerts by the Smith Quartet, the Graham Fitkin Ensemble and percussionist Colin Currie headlining Steve Reich's Drumming while JAM brings together massed choirs from St Andrew's, Edinburgh and Aberdeen universities to perform premiers by Paul Mealor and Tarik O'Regan alongside three works by Sound patron James MacMillan.
The new Scotland-wide Love Music Festival for children and young people will run special events in Banchory including Circus Invisible for younger children and Tuvan throat singers, a beatboxer and a Turkish jazz and funk-infused ensemble for the older age groups.
Sound promoters along with composers and musicians from across Scotland recently met in Edinburgh to discuss creating a stronger platform for new music. A virtual network, www.thisiscentralstation.com, will initially host an online forum to share information and a working group has been established to explore the possibility of holding a major event to showcase Scotland's new music talent in an international context.
This article has been reproduced by kind permission of Classical Music magazine. For more news and information on the classical music world, please visit www.classicalmusicmagazine.org