photograph © Alexander Craig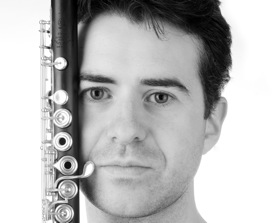 Richard Craig
flute and alto flute
Programme:
C.P.E. Bach Solo sonata
Rudolph Escher Air pour charmer un lézard for solo flute
André Jolivet Cinq incantations for solo flute
IV. Pour une communion sereine de l'être avec le monde
V. Aux funérailles du chef-pour obtenir la protection de son âme
Philippe Hersant Cinq Miniatures for alto flute (UK Première)
Pascal Dusapin Ici for solo flute
Istvan Matuz Sakura Sakura for solo flute (UK Première)
An intimate concert of contemporary flute music to inaugurate the re-launch of the Studio at Clashnettie Arts Centre.
2010-11-14T12:00
Sunday 14 November 2010, 12 noon
Clashnettie Arts Centre, Strathdon, AB36 8XL
Ticket Prices: £8 (includes soup and bread).
Limited tickets available, booking advised on 01975 651481 or info@clashnettieartscentre.co.uk