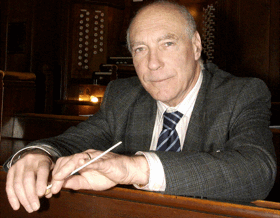 This event has been postponed due to injury - we apologise for any inconvenience caused.
An alternative recital
will be given in its place by David Smith.
Programme:
Tim Raymond Alleluia on the Pipes (World Première)
Claire Singer Layers and Levels (World Première)
Ligeti Ricercare
Judith Weir Wild Mossy
A recital to continue the sequence of concerts for sound featuring new and contemporary music for the organ.
2010-10-26T19:30
Tuesday 26 October 2010, 7.30 pm
King's College Chapel, University of Aberdeen, High Street, Aberdeen, AB24 3FX
Ticket Prices: Free

Promoter:
University of Aberdeen