photograph © Biffa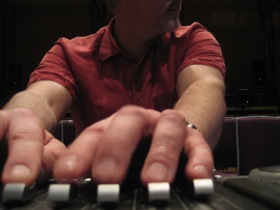 Huntly Writers Group
Elspeth Murray and Pete Stollery
Pete Stollery presents his evocative electroacoustic, Still Voices, based on the sounds of the coal-fired distilling system at GlenDronach before it was removed in 2005. This is the first time the piece has been heard at GlenDronach and you will have time to see the famous stills and the old coal fires.
Elspeth Murray, gifted poet who performs her work in a wonderfully engaging way, will also be giving her interpretations of the sound of whisky.
The evening at GlenDronach can begin, if you wish, with a guided tour of the distillery starting at 6.30pm and ending, traditionally, with tastings of the whisky you have just seen created! Alternatively you can arrive for the main programme, which starts at 7.30pm.
This performance is part of New Words. For more information visit www.newwords.co.uk
2010-09-08T18:30
Wednesday 8 September 2010 - from 6.30 pm, performance at 7.30 pm
GlenDronach Whisky Distillery, Forgue, AB54 6DB
Tickets: £5 (concessions £3)

Promoter:
New Words