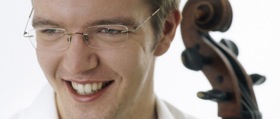 Programme:
Sally Beamish Gala Water
John Metcalfe Tracing the Outline
Bach 3rd Suite
Max Richter Vocal
Daníel Bjarnason Bow to String
PG&MM TERMINAL
23 year old cellist Peter Gregson is a pioneer of contemporary music and ambassador of a new generation of musicians for whom the use of new technologies is increasingly a matter of course.
Ever had an electric sensor cello suit on? Or performed at a concert with a live comment feed displayed on the wall? Or composed musical Twitter‐poems? Cellist Peter Gregson has done all of it of his own accord and is being acclaimed for it not only by classical sector, but also by the media and technology world. His pioneering work in refreshing the classical genre earned him the prestigious Glenfiddich 'Spirit of Scotland' award for music in November 2008 as well as membership to the Courvoisier Future 500. In January 2010 Peter was selected Creative in Residence (Music) by the Hospital Club London for 2010/2011. Peter has initiated ground-breaking performance projects, revolutionising the traditional concert experience through the innovative use of new technologies. For his project
thebluecello
(June 2005) Peter's performance was recorded live, with the recordings available for sale immediately after the concert. During his residency at the Banff Centre for the Performing Arts in Canada in 2008 he configured SPEM, a unique production, including a multi-tracked version of the Thomas Tallis masterpiece
Spem in Alium
. Played live on an acoustic cello supported by an extraordinary octahedral speaker setup (provided by Eclipse Speakers), the production provided a unique sound experience. In summer 2010, Peter Gregson will launch a new event at The Future Gallery, where a movie will be generated by a "soundtrack" he performs live. But the most revolutionary aspect of Peter's new approach to the concert is his use of new technology in order to interact with the public… In January 2009, he organised the "open", free-standing and interactive concert
The Words on the Wall
. Using software and visualizers especially developed for the occasion, the audience could tweet, text or email their thoughts and feelings about the music. The messages were displayed on the wall behind the performer. The experience pushed the boundaries of the classical concert: the public, usually not used to interaction, felt its opinion was valid, whilst the performer received honest feedback from an audience who "too often feel intimidated into silence". The event was immediately spotted by the fast paced technology world: Peter was invited to a streamed performance at the Twitter offices in San Francisco in March 2009.
Artist's website: http://www.petergregson.com
Further event details: on Aberdeen Box Office website
2010-08-19T19:30
Thursday 19 August 2010, 7.30 pm
The Lemon Tree, 5 West North Street, Aberdeen, AB24 5AT
Tickets: normally £10, but offered "two for one" for sound festival attendees (quote "SOUND" when booking to get this offer).
Aberdeen Box Office Tel: 01224 641122