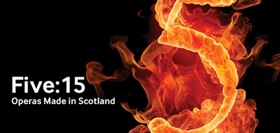 Five:15 at Word 2010
Scottish Opera
Scottish Opera premiere their new season of Five:15 - five mini-operas, each by a different librettist and composer. A series of exciting new works, these performances are enjoyable for the long-time opera-lover, and an easy introduction for those new to the art form. Word is delighted to host the only performances outside the Central Belt, and with only three shows, demand for tickets is sure to be great!
74° North
Music by Paul Mealor and Pete Stollery and words by Peter Davidson
An arctic scientist visits the site of a disastrous 1840s expedition, bringing echoes of a terrible tragedy to the surface once more. Dominated by its extraordinary setting, this opera brings two composers together blending orchestral and electro-acoustic music.

Sublimation
Music by Nick Fells and words by Zoe Strachan
A woman is haunted by her traumatic past and unable to separate it from the present. As she is overwhelmed by memories her story takes a mythical turn. Can she escape what has kept her prisoner for so long?

The Letter
Music by Vitaly Khodosh and words by Bernard MacLaverty
Drawn from Vassili Grossman's novel Life and Fate, set in 1940s Russia. A mother writes to her son, knowing she is about to be forced from her home along with thousands of fellow Russian Jews. As brutality and madness thrive around her she takes comfort from knowing that her spirit will live on through her words.

The Money Man
Music by Lyell Cresswell and words by Ron Butlin
A satirical take on modern morality and the state of the economy. Against a backdrop of tumbling share prices a man struggles to retain his financial empire… and his sanity. What will happen when his daughter discovers he's lost her inheritance?

Zen Story
Music by Miriama Young and words by Alan Spence
A young girl finds herself pregnant. When confronted by her parents she declares the child is a holy man's. Despite the threat to his reputation and position, he accepts responsibility without complaint… but why? A timeless tale of humanity and forgiveness, with music inspired by the richly resonant sounds of the temple.

Further information is available in this press release
2010-05-16T19:30
Sunday 16 May 2010, 7.30 pm
Elphinstone Hall, University of Aberdeen, Aberdeen, AB24 3FX
Tickets: all £15


In association with
Word
and the
University of Aberdeen