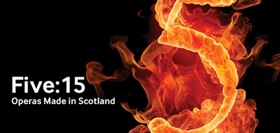 Librettists and composers of the mini-operas in Scottish Opera's Five:15 series featured at this year's Word discuss the fascinating collaborative process that brings words and music to the stage. Taking part are writers Peter Davidson and Alan Spence, and composers Paul Mealor, Peter Stollery and Miriama Young, all of whom are leading academics at the University of Aberdeen.
Further information is available in this press release
2010-05-16T17:00
Sunday 16 May 2010, 5.00 pm
Festival Marquee, King's College, University of Aberdeen, High Street, Aberdeen, AB24 3FX
Tickets: Free.


In association with
Word
and the
University of Aberdeen
further venue details: map link

|

no venue website link available