photograph © marc marnie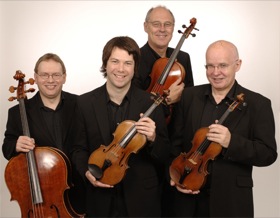 Programme to include:
Howard Blake - Spieltrieb
Haydn - Op. 77 No. 1
Tchaikovsky - No. 2
To celebrate the 50th anniversary of the Quartet, Howard Blake (best known for writing The Snowman) has been commissioned to write a new work. One of Haydn's last quartets and Tchaikovsky's romantic second quartet complete this attractive programme.
Artists' website: www.edinburghquartet.com
2010-02-25T19:45
Thursday 25 February 2010, 7.45 pm
Cowdray Hall, Schoolhill, Aberdeen, AB10 1FQ
Tickets: £8 (adult concession £5 /student & child concession £2)


In association with the
Scottish Arts Council
and the
University of Aberdeen
.
further venue details: map link

|

no venue website link available