photograph © Davina Gray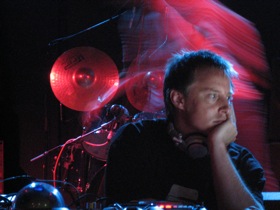 Bill Thompson
Bill Thompson is an international sound artist and composer who has performed extensively throughout the UK and abroad. His work involves the combination of found objects, field recordings, repurposed live electronics, and digital media to create evolving sonic structures for sound installations and live performance. Relocating from Texas in 2004, he was awarded a full scholarship to pursue a PhD in Composition. Since then he has earned numerous awards and commissions including the PRS for New Music ATOM award, the GAVAA visual arts award, a Scottish Arts Council grant to support a residency at STEIM, a PRS for New Music Three Festival commission (Huddersfield Contemporary Music Festival, Le Weekend, and Aberdeen sound festival), the 2009 Aberdeenshire Homecoming commission, and the 2010 Aberdeen Visual Arts Award.
In addition to working as a solo artist, Thompson has also collaborated with numerous well known artists including Keith Rowe, Mark Wastell, Burkhard Beins, Faust, Rick Reed, and others. He is also an avid supporter of new music, having hosted the first conference on sound art (SoundasArt) and the first Phonography festival in Aberdeen. Thompson also curates the Burning Harpsichord Series, a concert programme devoted to showcasing experimental music of the highest calibre, such as Keith Rowe, Rhodri Davies, Burkhard Beins, and Lee Patterson.
Thompson has releases on several labels and his work has been featured on BBC's Radio 3 programme, Hear and Now, as well as various other programmes. He is available for performances, lectures, and workshops concerning experimental composition, sound art, improvisation, and aesthetics.