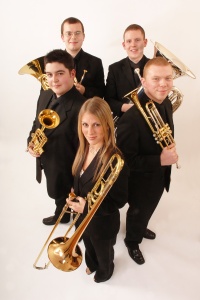 Thistle Brass
Thistle Brass is one of the UK's most exciting and innovative young chamber ensembles. The group has performed in a highly diverse range of settings and contexts, from the Shetland Isles to the Great Wall of China, from major music festivals and concert clubs to state and civic occasions.
Thistle Brass was established in 2002 by senior students at the Royal Scottish Academy of Music and Drama, where it has won several prestigious prizes and awards, including the Mary D Adams Prize for Chamber Music. They have also been recognized by two major National Awards, The Tunnel Trust Award for Chamber Music and the Musicians Benevolent Fund Award for Ensembles. The quintet was made 'Ensemble In Association' at the RSAMD in 2008 where it for whom it regularly delivers recitals, workshops and outreach education programmes all over the UK.
The group has toured throughout the United Kingdom and further afield, including China in 2005. It has performed at many major festivals including the Birmingham Brass Explosion, RSAMD Brass Spectacular, Moray Spirit of Brass Festival, Edinburgh Fringe Festival, Carlisle International Festival, Hexham Abbey Festival, appeared as Ensemble in Residence at the St Magnus Festival, Orkney, has given several broadcasts on BBC radio and in 2008 released their debut Album to critical acclaim 'Farewell To Stromness'.
Thistle Brass has built a reputation for concerts presented in its own inimitable and entertaining style. The group has an extremely expansive and diverse repertoire, and is equally at home performing classical to jazz, from serious to lunatic, whether performing new commissions from composers of today, or loosening its ties in a selection of its distinctive lighter repertoire. Thistle Brass has something to offer everyone! The group works regularly on behalf of many established education authorities throughout the UK; Children's Classic Concerts, Enterprise Music Scotland, RSAMD Musicworks and Artlink Central as well as performing for many years under the prestigious Live Music Now! Schemes.
Thistle Brass has also performed on many occasions for prestigious Royal and Civic occasions, including performances in the Scottish Parliament for the First Minister, in China for the British Embassy and performing for world leaders and media at the historic G8 Summit held at Gleneagles in 2005.