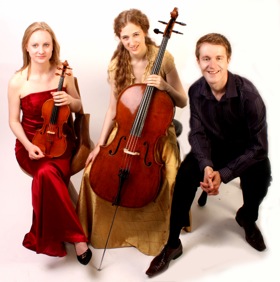 Rautio Piano Trio
The Rautio Trio draws together three outstanding young musicians from Britain, Israel and Russia. Based in London, they are widely recognised as one of the UK's finest young ensembles.
Recognised for their intelligent artistry, they bring innovative programmes and diverse repertoire to their audiences. Specialisms include Russian repertoire, British contemporary music and a historically informed approach to classical period works.
The Trio performs at major chamber music venues in the UK, appearing at the Wigmore Hall, Purcell Room, St. George's Bristol, Bridgewater Hall and frequently on BBC Radio 3 'In Tune'. The Rautio Trio has been recipient of many prestigious awards: Tillett Trust Young Artist Platform (2005), Maisie Lewis Wigmore Award (2006), Park Lane Group Award (2006), Musician's Benevolent Fund Ensemble Award (2007), and were finalists and winners of the audience prize at the Parkhouse Award (2007).
Previous seasons have included the premier of 'Syzygy' by Benjamin Wallfisch at the Wigmore Hall, Beethoven's Triple Concerto with Nottingham Symphony Orchestra and a collaboration with clarinettist Julian Bliss of 'Quatuor pour la la fin du temps' by Messiaen. They were selected by the Manchester Mid-day Concerts Society for the Bridgewater Hall Recital Series (2007) and invited to appear at the Florestan Piano Trio's Peasmarsh Festival following masterclasses on Schubert piano trios. Last season they gave debut recitals in Vienna and at the Pablo Casals Festival in France.
The three players are prize-winning graduates from the Royal Academy of Music, Royal College of Music and Royal Northern College of Music. Individually they are recipient of numerous scholarships and awards for their solo work and collectively they bring a depth of experience from working with some of the worlds most distinguished musicians in Europe and America.
They were appointed Leverhulme Chamber Music Fellows at the Royal Academy of Music 2005-7 and in 2008 were the first UK piano trio to be selected for the European Chamber Music Academy.
Vivacious and wonderfully assured sense of ensemble
'In Tune' BBC Radio 3
…ravishing tone and depth of timbre … a real sense of musical line.
The Independent
Jane Gordon - Violin
Jane was a prize-winning scholar at the Royal College of Music and completed her studies at the Royal Academy of Music, graduating with the Marjorie Hayward Prize, the Beare Violin Prize, and the DipRAM, winning the highest violin award in her year. Jane is an accomplished soloist and committed chamber musician. Her Purcell Room debut in 2004, for which she kindly loaned the 'Kustendyke' Stradivarius violin from the Royal Academy, received great critical acclaim and she has performed at the Wigmore Hall, Bridgewater Hall, Martinu Hall in Prague, Edinburgh Festival (ROSL) and the Stradivarius Festival in Cremona.
Jane was winner of the First Prize in the Anglo-Czechoslovak International Competition (2004), string finalist and prize winner of the Royal Over-Seas League Competition (2004), winner of the English Speaking Union IMS Prussia Cove Scholarship (2005), and was selected for the Park Lane Young Artist Platform (2004). She is also recipient of numerous scholarships (Musicians Benevolent Fund, Myra Hess Trust and Philharmonia MMSF) and regularly attends IMS Open Chamber Music. Jane also performs extensively on period instruments, and was recently the leader of Trevor Pinnock's EBE Orchestra at the Halle Handel Festival in Germany.
Adi Tal - Cello
Since making her solo debut at the age of twelve with the Israeli Chamber Orchestra, cellist Adi Tal has performed as a soloist with the Israel Philharmonic Orchestra, the Jerusalem Symphony, the Haifa Symphony, and the Herzliya Chamber Orchestra. She has collaborated with conductors such as Dan Ettinger, Aldo Ceccato, and Thomas Sanderling.
A recipient of the America-Israel Foundation Scholarship since 1995, the Ronen Foundation Scholarship since 2000 and the Raphael Sommer music Scholarship Trust since 2006, Ms. Tal's solo and chamber music performances have also been broadcast on the Israeli Radio. Adi has participated in the Perlman Music Program and the Perlman Chamber Music Workshop, the Steans Institute for Young Artists at the Ravinia Festival, the Verbier Academy and the Schleswig Holstein Masterclasses.
Since 2002, Adi has been a regular participant at the master classes and Open Chamber Music at IMS Prussia Cove. Adi received her BMus from the Cleveland institute of Music, recently graduated from the Royal Northern College of Music as a student of Ralph Kirshbaum. Adi plays a Guadagnini cello, and is winner of the 2008 Muriel Taylor Cello Prize.
Jan Rautio - Piano
Born in Russia, Jan began his musical education at the Gnesin School of Music in Moscow. He was a prize-winning scholar at both the Royal College and Royal Academy of Music in London, graduating in 2005 with top honours. He was awarded the Tobias Matthay Fellowship, the Sterndale Bennett Recital Prize, and the Robert Alva Memorial Prize.
Jan is a critically acclaimed soloist, accompanist (winner of the English Speaking Union Accompanist Prize 2004) and chamber musician. He performs throughout the UK, including Edinburgh and Brighton Festivals, Wigmore Hall, Purcell Room, Bridgewater Hall; Russia and in Europe, at venues such as Haydn Saal in Vienna and Palazzo Borghese in Rome. His concerto appearances include those of Mozart, Beethoven, Tchaikovsky and Shostakovich. In 2006 Jan made his USA debut with performances in Charleston, and subsequently was invited to appear in Charleston International Piano Series and Steinway Hall in New York in 2007.