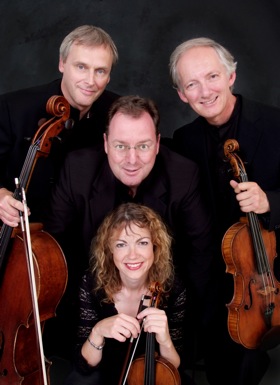 Primrose Piano Quartet
The Primose Piano Quartet was formed in 2004 by pianist John Thwaites and three of the UK's most renowned chamber musicians (Lindsay, Sorrel, Maggini Quartets). It is named after the great Scottish violist, William Primrose, who himself played in the Festival Piano Quartet. Alongside their performances of the major repertoire, the Primrose Quartet have researched widely the forgotten legacy of 20th century English composers, and have revived a number of remarkable and unjustly neglected piano quartets. Their first CD featured works by Thomas Dunhill, William Hurlstone, Roger Quilter and Arnold Bax. It was released in 2004 to wide critical acclaim and was followed by a disc presenting music by Cyril Scott, William Alwyn, Herbert Howells and Frank Bridge, which was a Five Star choice in the Classic FM Magazine. The Primrose Quartet celebrated Hurlstone's centenary (30th May 2006) live on BBC Radio 3 and at the Wigmore Hall.
A recent highlight has been the world première of Sir Peter Maxwell Davies's Piano Quartet at the Cheltenham Festival in 2008. This twenty-minute piece, commissioned by the Primrose, has proved very appealing, and will be available on a new CD early in 2010 on Meridian.
Another exciting commission, born out of their strong Scottish connections, is the "Burns Air" project, timed to celebrate Robert Burns's 250th anniversary. Having chosen an air with a haunting melody and text, the Primrose invited a number of their composer friends to write a short variation each, and the composite work will have its world première in October for Tunbridge Wells Green Room Music and the Scottish première in November 2009 at the Sound Festival in Aberdeen, followed by a London performance later in the year at King's Place. Sally Beamish, John Casken, Jacques Cohen, Peter Fribbins, Francis Pott, Zoë Martlew, Piers Hellawell and Stephen Goss are among those who are contributing.
Having been selected for the Making Music Concert Promoters' Network in 2004/5, the Primrose have toured throughout the UK as well as abroad, for example an extensive tour of Denmark in 2010. Alongside their rapidly growing concert schedule, they offer innovative educational workshops for schools which are attracting a lot of interest, especially in connection with the Burns Air project. Other educational work includes a residency at the London College of Music.
Three exciting new CDs are planned for release during 2009 and 2010 on the Meridian label: Richard Strauss Piano Quartet, Violin Sonata and Cello Sonata; the new Piano Quartet by Maxwell Davies, coupled with the Burns Air Variations and a previously unrecorded Piano Quintet by Dmitri Smirnov; and a disc of the Fauré C minor and Brahms G minor Piano Quartets.