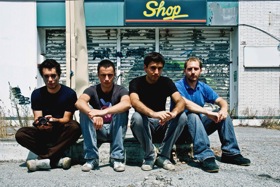 port-royal
Hailed by fans and critics alike as the next evolution in post-millenial post-rock, Port-Royal's boundless, sandbox approach to the genre fuses elements of ambient techno, shoegaze, and melodic IDM, recalling at times the mid-90s output of Orbital and Aphex Twin while indebted to the guitar-driven aesthetic of genre forebears Mogwai and Sigur Ros.
During a boredom-relieving conversation at a castle party in the hills of Genoa, childhood friends Attilio Bruzzone (guitar, synths, programming, vocals) and Ettore Di Roberto (piano, synths, programming, vocals) discovered a mutual affection for the likes of Joy Division and Mogwai and, in July 2000, decided to put their ideas down on tape. The two were soon joined by Ettore's brother Michele on drums and, in early 2001, sampler/programmer Emilio Pozzolini. Adopting Michele's suggested moniker 'port-royal', the quartet released their first EP, Kraken, in March 2002 on Genoa's Marsiglia Records. Kraken's unique blend of melancholy acoustic melodies, glacial ambiance and crisp, glitch-tech beats received limited attention outside Italy but set the template (and stage) for the band's critically-acclaimed debut full-length, Flares. Released on UK label Resonant Recordings in March 2005, the record was recorded and produced over a three-year span in the band's homemade studio and live with the help of line-up addition Guilio Corona on bass/samples. With frequent slow-burn builds that often cut their engines and change course before hitting escape velocity, Flares dynamic epics seem content in the hazy, indeterminacy of the stratosphere, favouring subtle textural shifts to the dramatic staccato crescendos of traditional post-rock.
In 2006, the band built on their growing international attention, accepting invitations to Bologna's Netmage Festival and Saint-Malo's Route de Rock (a first for an Italian band) before hunkering down in their Genoa studio to finish production on 2007's Honvéd EP (Chat Blanc Records, Canada) and the band's sophomore full-length, Afraid to Dance. Released on Resonant in July, the ironically-titled follow-up to Flares sees the band bringing their clipped, crystalline beats (and latent shoegaze tendencies) to the fore, balancing chill-room accessibility with frenetic shifts in style (from house to slowcore) to create their most popular record to date. Embarking on their first pan-European tour later that year, the band expanded their ranks to include laptop wizard Alexandr Vatagin and visual artist Sieva Diamantakos. Exploring themes of social ennui, loneliness, and emotional solipsism, the latter's dark, melancholy images became an essential part of the band's aesthetic, leading to his permanent membership in 2008 and the production of port-royal's entire music video catalogue to date, including "Putin vs Valery", "German Bigflies", "Stasi" and fan-favorite "Anya: Sehnsucht."
Despite their continuing tour, 2008 would prove a busy year for port-royal collectors. In early May, the band released the "Anya: Sehnsucht" remix EP (Chat Blanc), and, two weeks later, the Flares remix album, Flared-Up (Resonant Recordings). Begun in 2005 but delayed due to label licensing issues, the latter features twelve perfectly-matched collaborations with the likes of nu-gaze pioneers Ulrich Schnauss and Televise, IDM/ambient purveyors Manual, F.S. Blumm, and Fizzarum, and electro-acoustic post-rockers Minamo and Stafrænn Hákon. 2008 would also see the band's first new material in over a year with September's Magnitogorsk, a split EP with Greek artist/longtime friend George Mastrokostas (AKA Absent Without Leave), as well as three new compilation appearances, bringing the band's total to 19 since 2003.
In early 2009, port-royal inked a deal with Oakland-based n5MD to release their third full-length album, Dying In Time. Excluding the 3-movement, slow-burning "Hermitage", the majority Dying In Time sees the band burying their contrapuntal guitar work under layers of gauzy synths, pulsing, 4-on-the-floor beats, and more prominent vocals on more than half the album. With tighter song structures and a new melodic focus, port-royal's latest effort manages to preserve the ethereal, dream-like quality of the band's previous work, while making room for the infectiously-catchy ambient pop of tracks like "Balding Generation (Losing Hair As We Lose Hopes)" and "Nights in Kiev."
Port-Royal - 'I Used To Be Sad' from the album 'Dying In Time'
audio clip included with kind permission
licenced by the MCPS-PRS Alliance for playback on www.sound-scotland.co.uk
Dying In Time is a wondrous and uplifting slice of modern music. Let's not get bogged down in whether it's post-rock, ambient, modern-classical or, indeed, some alien brand of trip-hop. Dying In Time possesses elements of all these genres, but blends them in such a way as they feel natural, that music has always sounded like this and possessed these qualities that inspire feelings of joy and wonder.
The Line Of Best Fit
If one can stand its brilliant cold without shivering, Dying In Time might be one of the most fulfilling records of the year.
XLR8R
If Afraid to Dance favours technique and production over the development of actual songs it nevertheless finds the band far enough ahead of most post-rock that they actually point towards new directions for the genre.
Coke Machine Glow
So it goes with port-royal, who were lumped by many into the post rock genre, even though their sound very, very rarely moves into something that would be called rock at all. If anything, the group is creating super-spectral ambient music.
Almost Cooler