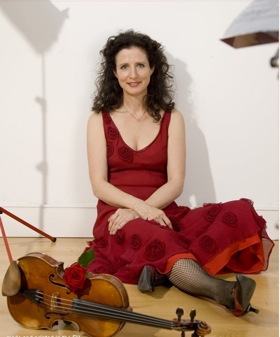 Madeleine Mitchell
Madeleine Mitchell is 'one of Britain's liveliest musical forces and foremost violinists'(and)'a tireless pioneer for new music (The Times). She has performed in over 40 countries as a soloist in a wide repertoire in major venues and has had numerous works written for her by several of Britain's best known composers.
Madeleine Mitchell has performed a wide repertoire of concertos with major orchestras including the Czech and Polish Radio Symphony, Wurttemberg and Munich Chamber, the Royal Philharmonic and other London orchestras; Welsh Chamber, Orchestra de Bahia Brazil, Malaga Symphony of Spain, Kiev Philharmonic and for the BBC. She also directs concertos from the violin such as Bach and Vivaldi Seasons and commissioned and premiered a unique 'concerto' for violin and voices by Jonathan Harvey, Roxanna Panufnik and Thierry Pecou at Bath and Spitalfields festivals. She performed Lou Harrison Violin Concerto with Percussion Orchestra in Symphony Hall Birmingham International Series as part of her collaboration with Ensemble Bash, supported by a major award from Arts Council England. Her recording of this and other new works, 'FiddleSticks' on the Signum label, received 5 star reviews in both BBC Music and Classic FM Magazines and was shortlisted for Grammy, BBC Music and Midem awards last year. Most recently she performed as soloist with the St Petersburg Philharmonic in November - Vaughan Williams 'The Lark Ascending' - and stepped in at 12 hours notice to perform Bruch Violin Concerto with the Bath Philharmonia in their New Year Gala 2010 to a capacity audience in the Theatre Royal.
Madeleine Mitchell is well known for her recitals, frequently broadcast for television and on BBC Radio 3, ABC (Australia), Bayerischer Rundfunk, National Spanish Radio etc and for her imaginative programming and engaging spoken introductions. After a recital in Glasgow the Chief Music Critic of the Herald wrote: 'Madeleine Mitchell is a violinist in a million. Staggering virtuosity, unparalleled musicianship, her amazing big-toned, sweetly lyrical, vibrantly intense playing is unmistakable..virile Elgar, exuberant Mozart, breathtakingly rumbustuous Dvorak, spellbinding MacMillan written for her.' She represented Britain in both the festival UKinNY with a recital at Lincoln Center, and for the centenary of Entente Cordiale with France as well as Brazil 2008 where she was widely featured on TV. She has given recitals at Sydney Opera House, Seoul Center for the Arts and Hong Kong - part of a 3 month world tour supported by the British Council, played at many international and most of the major British festivals including the BBC Proms and frequently performs in London. She was chosen by Norbert Brainin, legendary leader of the Amadeus Quartet, to play with him for his 80th birthday concert at Wigmore Hall. Other artists with whom she has collaborated include Joanna MacGregor, Paul Watkins, Kathryn Stott and Craig Ogden. 2010 sees her return to the USA and two new collaborations - with Japanese pianist Noriko Ogawa in several UK festivals and with soprano Patrica Rozario.
Her burgeoning discography includes 'Violin Songs' (www.divine-art.com) - popular pieces and rarities with Andrew Ball piano and Elizabeth Watts soprano - Classic FM's CD of the Week: 'a CD full of small joys wonderfully played' (The Strad); 2 albums for Naxos: Alwyn chamber music and the violin works by Howard Blake, accompanied by the composer (2008); 'In Sunlight: Pieces for Madeleine Mitchell' (NMC) - attractive works written for her by many of Britain's best known composers including MacMillan, Nyman and Osborne: 'wonderfully accomplished performances'(Gramophone); 'British Treasures' - early 20C romantic violin sonatas for Somm, Hummel violin sonatas for Meridian and the widely recommended Messiaen Quartet for the End of Time with Joanna MacGregor, re-released by Warner in May 2010 at the LSO/Gergiev Messiaen concerts.
A highly creative personality, Madeleine devised the Red Violin Festival under Lord Menuhin's patronage in 1997, the first international eclectic festival of the fiddle across the arts, which took place again in October 2007 successfully throughout Cardiff over 10 days with extensive media coverage. www.redviolin.co.uk
Madeleine Mitchell was awarded the Tagore Gold Medal as Foundation Scholar at the Royal College of Music where she has been a Professor since 1994. As Fulbright/ITT Fellow she gained a master's degree in New York studying with Dorothy DeLay, Donald Weilerstein and Sylvia Rosenberg at the Eastman and Juilliard schools. She gives master classes worldwide (including RSAMD), is Director of the London Chamber Ensemble and is on the faculty of the Schlern International Festival in the Italian Alps in July and the Interharmony Festival in Germany. She has been nominated for Woman of the Year, the European Women of Achievement and the Creative Briton Awards.