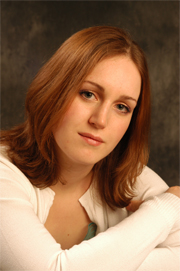 Helen Grime
Helen Grime was born in 1981, and attended the City of Edinburgh Music School and St Mary's Music School in Edinburgh, where she studied oboe with Robin Miller. In 1999 she received a Foundation Scholarship at the Royal College of Music to study both oboe and composition. Helen studied oboe with John Anderson, and composition with Julian Anderson and Edwin Roxburgh.
During her time at college, Helen graduated from the BMus course with First Class Honours and has recently completed her Masters with Distinction. During her BMus degree, Helen was awarded the First Year Oboe Prize and the Manilow Prize for all-round excellence. She played principal oboe in concerts with the New Perspectives Ensemble, the Sinfonietta and the Baroque Orchestra. She attended the Paxos Festival as oboist in September 2003 and has been Principal oboe with the National Youth Orchestra of Scotland and its Chamber Orchestra, Camerata Scotland.
Helen has written both instrumental and vocal music. In 2001 she wrote Doorstepping Susanna for ENO Studio and Tête à Tête Opera, the youngest of six composers commissioned to write short operas for these groups. Doorstepping Susanna received over twenty performances throughout the country. Helen's music has been performed by the Hebrides Ensemble, who commissioned her to write a song for their Millennium Songbook. Other projects include A Last Look, a song for soprano and piano, written for Andrew Motion's fiftieth birthday celebrations, and performed in the presence of the Poet Laureate in February 2002. A Last Look was subsequently performed at the Royal College of Music and around Scotland, by the Hebrides Ensemble. Helen's oboe concerto was premiered by the Meadows Chamber Orchestra, conducted by Peter Evans, with Helen as oboe soloist. The work was reviewed to critical acclaim in the Glasgow Herald. In January 2004, Helen performed the concerto with the RCM Sinfonietta conducted by Neil Thomson, which was widely reviewed in the National Press.
Helen won the Making Music category of the 2003 British Composer Awards with her oboe concerto, and was awarded the intercollegiate Theodore Holland Composition Prize as well as all the major composition prizes in the RCM. Following the British Composer Award, Helen received a BBC Radio 3 commission to write Chasing Butterflies for 100 violas. The piece incorporates a range of standards from beginner to the BBCSSO viola section. Chasing Butterflies was performed as part of the William Primrose festival in Glasgow conducted by Martyn Brabbins.
In June 2004, her Song for seven instruments was premiered as part of the Philharmonia Music of Today series, and in July the Quartet for clarinet and string trio received its première in the King's Lynn festival performed by the Contemporary Consort. The Flash of Fireflies in folds of darkness for solo piano recently received its first performance in the Warehouse given by Daniel Becker.
In May 2005, Helen's Lachrymae, for a capella choir, received its premiere by the Ionian singers conducted by Tim Salter.