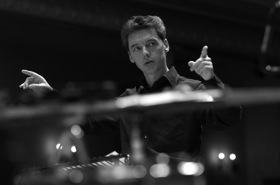 Will Conway
William Conway was born and grew up in Glasgow and is well known as both conductor and 'cellist.
After ten years as principal 'cellist with the Scottish Chamber Orchestra and the Chamber Orchestra of Europe, of which he is a founder-member, an Arts Council Award enabled him to further his conducting studies in Helsinki with Jukka-Pekka Saraste. During his four years of study he worked with a number of prestigious orchestras and was a laureate at the 1994 Leeds Conductors Competition.
Since then he has established himself as a conductor of versatility, working with a wide variety of repertoire and orchestras. He has enjoyed a long relationship with many young orchestras based in Scotland, most notably Camerata Scotland with whom he has toured and recorded, as well as his regular, ongoing collaboration with several University orchestras.
He regularly gives first performances of new works, notably the viola concerto by Nigel Osborne with the RSAMD symphony orchestra. He works frequently with NYOS; this is his third appearance in the NYOS Futures series.
He has conducted the Scottish Chamber Orchestra, BBC Scottish Symphony Orchestra, Royal Scottish National Orchestra, Northern Sinfonia, the Italian orchestras 'Città di Ferrara' and 'Orchestra del Teatro di Cagliari', Scottish Concert Orchestra, Goldberg Chamber Orchestra, English Northern Philharmonia and the Scottish Baroque Soloists. In 1996 he formed the Seer Opera Company and Seer Ensemble with whom he gave the world première of the opera 'The Seer' by John Bevan Baker. In addition, he has conducted several operas with Haddo House Opera.
He is co-founder and artistic director of the innovative contemporary music group, Hebrides Ensemble, which has commissioned over sixty new works in the last nineteen years as well as providing educational workshops and many inter-disciplinary projects. He has been presented with a Scottish Society of Composers Award for his outstanding contribution to the promotion of contemporary music.
Recent conducting engagements include English Sinfonia, Chamber Orchestra of Europe (with whom he has made a CD recording released by Warner), Sofia Philharmonic, Royal Flanders Philharmonic Orchestra, Zagreb Philharmonic, performances of Birtwistle's 'Secret Theatre' and Ligeti's 'Chamber Concerto' at the Royal Scottish Academy of Music, the Phoenix Symphony Orchestra, Cairo Symphony Orchestra, the Beethoven Academy, Goettingen Symphony, where he is a regular guest, the operas 'Cavalleria Rusticana' and 'Pagliacci' at Haddo House and 'The Martyrdom of St Magnus' by Sir Peter Maxwell Davies at the St Magnus Festival in Orkney. Later this year he will direct performances of two music theatre pieces by Maxwell Davies as well as a performance of 'Seven Last Words From The Cross' by James MacMillan.
Also performing with: The Hebrides Ensemble.