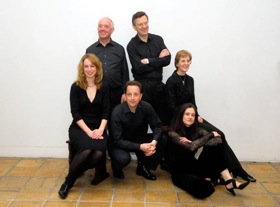 Cantamus Hodie
Several of the members of Cantamus Hodie are experienced soloists as well as experienced in choral ensembles. Cantamus Hodie was formed to sing consort music, that is, where each singer is solely responsible for his or her own musical line and can add a soloist's attention to detail.
Of course the other skill of a consort member is the ability to sing as an ensemble (tempo and balance) without the need for a conductor. This is achieved through a strong mutual recognition of the tactus and listening very hard to each other's part while singing your own. This was a strong tradition in renaissance polyphony.
For this year's sound Festival concert Cantamus Hodie turns its attention to modern composers whose works are influenced by early music. They will also perform JC Bach's Wedding Dialogue 'Meine Freundin, du bist schön'. Cantamus Hodie are lead and accompanied by an ensemble of experienced professional musicians.
Cantamus Hodie have recently performed at St Andrew's Cathedral at Noon series, in Banchory and at Aberdeen's Cowdray Hall, Brecon Cathedral and at Roujan in the South of France. They performed at the St Machar Sacred Music Festival in 2009 and are booked for 2010 with a programme comparing the music of old Europe with the sacred music of New Spain - Mexico - and Bolivia - 'Kings and Conquistadors.
Instrumentalists:
Guera Maunder, violin
Ruth Kalitski, viola
Nathalie Vanballenberghe, viola
Michaela Wiedermann, viola
Alison MacDonald, cello
Catharine O'Rourke, flute
Roger Williams, keyboards
Cantamus Hodie:
Alexandra Stacey, soprano
Claire Woods, soprano
Giles Pilgrim Moris, countertenor
Fiona Fairhurst, contralto
Richard Coleman, tenor
Thomas Henderson, tenor
James Corrigan, baritone
Andrew Morrisson, bass