press reviews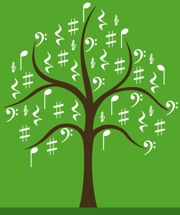 AIYF Compose!
Music in the Univeristy, AIYF Compose! & Composers' Day Concert
Written by Alan Cooper
reproduced with permission
Music in the Univeristy, AIYF Compose! & Composers' Day Concert
A real spirit of congeniality seemed to surround the Composers' Day Concert early on Saturday evening. It brought together three of the prime movers in north-east music: Aberdeen University, the Aberdeen International Youth Festival and the sound Festival. And what could be more heartening than an event that brought these three great forces together to promote freshly minted works from six enthusiastic young composers? Five of them were present in King's College Chapel to experience the special thrill of hearing their music played live by a group of gifted young performers. These were the dynamic young Alba Quartet and the amazing flautist Richard Craig who had stepped in at a moment's notice to replace an indisposed Roberto Fabbriciani.
The four young composers taking part in the competition for string quartet composition ranged from fourteen year-old Dmitri Olayzola to Scott Matheson who is twenty. Both of the other contestants Timothy Coleman and Lliam Paterson were aged seventeen, but as the head of the judging panel, the distinguished composer Judith Weir said, "Age means nothing; talent and skill are all that matters".
And talent and skill was precisely what was on display from the four composers who introduced their own pieces.
First away was Timothy Coleman whose Finale Scherzando was designed to be the final movement of a String Quartet still to be completed. Here was a classical composition in traditional style which showed a mature and stunningly sophisticated grasp of the string quartet idiom. His thematic material was strong, and its development well driven with an understanding of key relationships. This rondo sonata was superbly lively and energetic and the Alba Quartet got stuck into it with real zest.
Dmitri Olayzola's Tiempos inestables (unstable times) also had a strong theme to build on. It was well thought out with a characteristic style although I did sense the influence of Arvo Pärt in there somewhere.
Scott Matheson gave us another quartet in traditional classical style. It opened Lento with quite beautiful harmonies that when the music revved up to Vivace were exploited in a quite different way to propel the music forward.
Finally Lliam Paterson gave us his entry entitled Tetraptych (Themes from Picasso) in which four wonderfully imaginative pieces were linked magically together. His was a highly individual musical voice that used the instruments of the quartet in telling combinations to express his visions in a series of powerful and arresting cameos. His exploitation of harmony and more especially of rhythm was truly impressive. It was for this reason I am sure that Liam emerged as a clear winner. The others should not despair though. Debussy and Berlioz for instance both entered compositions in the French national competitions. Neither of them won, at least first time, but their names are not exactly forgotten.
While Judith Weir was working throughout the day with the string quartet composers, another distinguished academic and composer John Casken was busy along with flautist Richard Craig on music for solo flute. We heard fine performances of two excellent pieces, the first by Fraser Burke who unfortunately was not able to be present at the concert, and the second by Gemma McGregor.
Fraser's piece entitled Study in Intensity was a well crafted nicely shaped piece that explored special techniques like pizzicato tonguing and flutter tonguing. Gemma McGregor's piece entitled Tantrum was inspired by a child having a "hissy fit". I loved this piece. You could hear the child's winging in the voice of the flute and I could also sense the child's struggles as it protested against parental authority. It was astonishing to discover that Richard Craig was almost sight reading these pieces. What a performer!
published on 25 October 2008
written by

Alan Cooper

 



Original article reproduced here with kind permission.