photograph © Michael Mitchell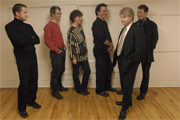 Continuum
Continuum Contemporary Music presents the work of Canadian and international composers in its Toronto concert series, at festivals, on tour, through recordings and over the air waves. Interdisciplinary work - music combined with film, dance, installation, new media, and philosophy - is an important feature of programming. Formed in 1985, Continuum's top notch core ensemble of flute, clarinet, violin, cello, piano, and percussion (which is often augmented) has performed works by established Canadian and international composers, premiered more than 100 new works from emerging composers and released three CD's. Continuum has toured Canada and western Europe, performing at the Banff Centre, the Montreal New Music Festival, the IJsbreker (Amsterdam), Huddersfield and Canada House in London, among other centres. It has given workshops and seminars for young composers across Canada as well as at the Royal Academy and Trinity College in London, England.
Recent seasons have seen collaborations with John Oswald, noted French flutist and conductor Patrick Gallois, and the Royal Ontario Museum in presenting l'Oreille Fine, a festival of concerts and a symposium of philosophers, poets, critics and a psychologist dealing with the subject of new music. In 2003 Continuum made its European debut in a tour of The Netherlands, Great Britain and Belgium; appearances included concerts at the old IJsbreker and the Huddersfield Contemporary Music Festival, and the group was picked up by three radio broadcasters including the BBC and VPRORadio. In 2006 Continuum was instrumental in organizing soundaxis, a Toronto festival of music and architecture focusing on the work of Iannis Xenakis.
This season, Continuum presents SHIFT, a festival of Canadian and Dutch music, film, literature and visual art to take place at the Muziekgebouw aan 't IJ in Amsterdam, and at Harbourfront and the Music Gallery in Toronto. Groups involved in SHIFT include Continuum, Quatuor Bozzini, Ives Ensemble and Asko Ensemble, the latter with soprano Barbara Hannigan, performing new works by Dutch and Canadian composers, among them Guus Janssen, Richard Ayres, Michael Oesterle, Mayke Nas, and James Rolfe. Filmmakers include Guy Maddin, Vera Frenkel, and others, working with composers to create new works of film and live music. Canadian and Dutch authors, visual artists, architects and chefs fill out the lineup. While in Europe, Continuum will perform at Sound in Aberdeen, November Music in 's-Hertogenbosch, and HNMF in Huddersfield.
"Ensemble Continuum performs magic with sound."
De Telegraaf, Amsterdam, Nov. 21, 2003
Continuum's tour is generously supported by The Canada Council for the Arts.