photograph © David Costa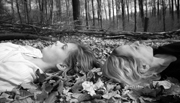 Janis Claxton Dance
Janis Claxton Dance is a contemporary dance company based in Edinburgh. The company creates choreographed works for touring in small-mid scale venues and site specific performance events for unique spaces. The company is grounded in a training-based methodology resulting in a unique movement voice underpinned by Claxton's passionate commitment to movement research. This allows the dancers to forge an exciting movement style. possessing an inherent lightness and ease alongside an earthy and energetic physicality, highlighted by a musical clarity and sensuosity: "Eloquent, gimmick free dancing at its best."
Janis Claxton Dance was originally formed in Bristol 2002 and enjoyed 2 highly successful South West tours funded through ACE in 2003 and 2004. Since 2005 Janis Claxton has been based in Scotland and the company has redeveloped with support from residencies and commissions from Scotland's Dance Agencies (Dance Base, Citymoves, Dance House) and Creative and Professional Development awards from the Scottish Arts Council.
The company has recently received Project Touring Funding from Scottish Arts Council for the upcoming tour Falling Light.
The Dancers
Damaris Verduijn
Damaris Verduijn completed her dance training at The Rotterdam Dance Academy (The Netherlands) and Physical Theatre Module at Diakonos London in 2000, before going on to dance professionally for three years in companies in Germany and Holland, dancing for established choreographers such as Frédéric Flamand (BE) and Kristine Sommerlade (DE). She then returned to study Choreography at The ArtEZ Institute of the Arts, Arnhem, The Netherlands, where she met with Janis Claxton and her work. Damaris has since performed in a variety of independent projects and venues in Holland and Germany. In Hungary Damaris performed at the Solo's and Duo's International Dance Festival 2007, Budapest, performing the solo 'Meantime' choreographed by Noa Shadur (IL) winning an award for best solo presentation. Choreographically Damaris won a Runner-up audience prize dance/choreography, for her choreography with first year Dance Students of ArtEZ Arnhem NL, in 2005. Most recently she has created two of her own works; the duet Blindelings with a blind amateur Dancer(2006/2008) and a duet made in collaboration with choreographer Isabella Lasser (AU) 2008 Rotterdam. Damaris has taught in schools across Germany as part of 'Mind The Gap' education program and teaches regular classes at a youth theatre school in Dordrecht, a bible and art school in Voorthuizen and a primary school in Rotterdam.
Tamsyn Russell
Tamsyn (NZ/UK) was born in Gisborne, New Zealand. She trained in Ballet from the age of 4 at Daine Logan School of Dance then moved to Tauranga to train at The Dance Education Centre directed by Prue Gooch. Tamsyn furthered her training by completing a Bacholer in Performing and screen arts degree majoring in contemporary dance at Unitec New Zealand. Since graduating in 2003 she has worked for many established and emerging artists in New Zealand. She has worked for Michael Parmenter's Commotion Company, Chris Jannidies "Nok Nok Turn", Ann Dewey "Queen Camel", Raewyn Hill "White", Fleir De Their "breaking Bride",Katie Burton "Tick", Julia Sadler "red and Black" and "Moth" and Vaccum Pact Dance company seasons Roam and The Lens. Tamsyn has also choreographed for the Auckland Philharmonic Orchestra at Government house Auckland, New Zealand, The Auckland season of EQQUS for Paech productions and rehearsal directed for Guy Ryan's solo show "The Fall Guy". She was also a regular technique tutor for the Degee program at Unitec New Zealand and The Performing Arts.
Katarina Vlnieskov
Katarina Vlnieskova was born in Bratislava, Slovakia. She started her intensive dance education with Dagmar Puobisova, who brought her into the dance field. In 1988 Katarina became a member of the company Dance Theater Bralen, where she danced for 4 years. She was a founder member of the company Torzo Ballet in Bratislava (95-97). In 1998 she finished 5 years studies and graduated at The University for Music and Performing Art – Pedagogy of modern dance. Since 1998 she danced with several companies; Szeged Contemporary Ballet(Hungary), Bratislava Dance Theater(Slovakia), Theater Nova Scena (Slovakia), Volksoper Wien – Tanz Theater Wien(Austria), Aktions Theater Ensemble,(Austria). Katarina's dance history is connected to Joe Alegado (dancer, teacher and choreographer) who has played a major influence in her artistic journey. Since they met in 1988, she has worked with him as his student and lately as an assistant. Since 2004 Katarina has worked as a freelance dancer, performing in dance and theater productions. She also works as a dance teacher in intensive dance education program in H7 studio in Vienna.
Kyriaki Kyrkou
Kirki Kyrkou was born in Thessaloniki, Greece, where, at the age of 9, she started dancing at the Ballet Centre of Thessaloniki. She continued with professional studies at the State School of Dance and was granted a scholarship by the Municipality of Thessaloniki to attend various seminars in France and UK (Akram Khan, Paul Douglas, Wim Vandekeybus, Jeremy Nelson, Risa Steinberg etc). Since the beginning of her dancing career, she has won many distinctions in her dance studies (Royal Academy of Dance) and performances (3rd and 1st place in Classical Dance at the National Dance Contest,1999 and 2000). Since then, Kirki has been working professionally as a dancer, cooperating with the Hellenic Dance Company and the National Theatre of Northern Greece. Some of her performances include the Opening Ceremony for the Olympic Games in Athens 2004, along with participations in dance videos and documentaries.
Vikky Stewart
Vikky Stewart graduated from the Scottish School of Contemporary Dance in 2004 after which she was based in London for 3 years working with Adrenalin Dance where she performed and taught dance workshops for children ages 3 – 16 throughout London including at Buckingham Palace and Hyde Park. She has recently performed in the Gaelic Opera 'St Kilda' in Stornoway and has performed in numerous independent dance projects including works by Merav Israel and Tamara Ashley. She has worked with director Angus Balbernie performing in 'Meatyard' at the Tobacco Factory in Bristol (Sep 2006) and will work in his next production at the CCA Glasgow (July 2008). Vikky joined Janis Claxton Dance in November 2007 and performed in 'Sweet Love' at the CCA (February 2008). She will be performing in Enclosure 44 - Humans at the Edinburgh Zoo and the Falling Light Tour in autumn this year. Vikky also recently choreographed her own work 'Stranger' in a residency Dance House Glasgow.