photograph © Suzanne Jensen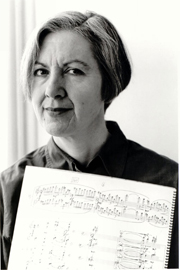 Judith Weir
Judith Weir (born 1954) is one of Britain's most wide-ranging composers. She studied composition with John Tavener whilst at school in London, and at Cambridge University with Robin Holloway. For six years she taught composition at Glasgow's University and RSAMD and she has also held visiting professorships at Oxford and Princeton. She is an active advocate of new music for school-age and adult amateur performers.
Her interest in theatre, narrative and folklore has resulted in three full length operas, 'A Night at the Chinese Opera', 'The Vanishing Bridegroom' and 'Blond Eckbert'; and theatrical collaborations with Sir Peter Hall, Caryl Churchill and Peter Shaffer. Together with storyteller Vayu Naidu, Judith has created a blend of storytelling and music entitled 'Future Perfect' which has toured England and India; a new instalment of which was premiered in 2005.
Works composed for specific artists include 'woman.life.song', a 50-minute song cycle commissioned and performed by Jessye Norman in Carnegie Hall, New York and at the BBC Proms; 'We are Shadows', written for Sir Simon Rattle and the CBSO orchestra and its three choruses (winner of the 2000 South Bank Show Music Award); an extended series of chamber works for Judith's long-time collaborators, the Schubert Ensemble, recently released on a double CD by NMC; and 'The Voice of Desire', a collection of songs written for Alice Coote.
Recent successes include a major orchestral work 'The Welcome Arrival of Rain' for the Minnesota Orchestra and the ensemble work 'Tiger Under the Table' for the London Sinfonietta. Judith recently completed 'Armida', an opera for television in collaboration with film-maker Margaret Williams, commissioned by Channel Four TV, and a new version of her opera 'Blond Eckbert' for The Opera Group. She is currently writing a new work commissioned by the Scottish Chamber Orchestra and Tapiola Sinfonietta to be premiered in the autumn of 2006.
From 1995 to 1998 she was the City of Birmingham Symphony Orchestra's Composer in Association; and from 1995 to 2000 she was the Artistic Director of the Spitalfields Festival in London. She spent the first half of 2004 teaching at Harvard University, as the Fromm Foundation Visiting Professor of Music. Judith Weir's music is published exclusively by Chester Music Ltd. and Novello and Co. Ltd.
Contact Chester Music Novello Co : 44 (0)20 7434 0066 © 2005 Chester Ltd. Novello Company Ltd.