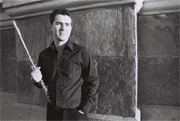 Richard Craig
Richard Craig was born in Glasgow and studied flute at the Royal Scottish Academy of Music and Drama with Richard Blake and Sheena Gordon. Graduating in 2003 with a degree and solo diploma cum laude, he continued his studies (supported by the Scottish International Educational Trust and a Dewar Arts award) at the Conservatoire National de Region Strasbourg with Mario Caroli and Claire Gentilhomme. In 2006 he received a diplôme de spécialisation from the CNR de Strasbourg, achieving the highest award possible: 'unanimité du jury'. During this time Richard also received guidance from Pierre-Yves Artaud.
Richard's affinity with new music has been a source of inspiration and deeply influenced his approach to the interpretation of all musical genres. As a result he has been identified as a new generation of instrumentalist at the vanguard of the interpretation of new music, setting a new precedence in the performance and programming of concerts by realising performances of works that had previously been deemed as musically and technically unexecutable by previous generations. Alongside his ability to interpret works of the highest musical and technical intricacy, he also has a profound understanding of the repertoire, the instrument, and its context in the music of today. Involved in researching all aspects of the flute and new music, Richard dedicates his time to commissioning, performing, collaborating with composers and educating a new generation of artists.
He has worked with some of the most celebrated composers of our time: James Dillon, Ivan Fedele, Kaija Saariaho, Brian Ferneyhough, Helmut Lachenmann and Salvatore Sciarrino. In 2005 his London debut with the Park Lane Group was received to critical acclaim:
"Richard Craig is a brilliant flautist" (The Times)
"Virtuosity at its most beguiling… a tour de force" (The Guardian)
"a virtuoso of the first order" (The Herald)
Richard is also a laureate of numerous international competitions: Grand Prix and a Primo Speciale (for his performance of works by Sciarrino) from the XIth and XIIth L'Accademia Concordia Concorso Internazionale di Interpretazione di Musica Contemporanea, Italy and 'prix du jury' from the XIVth Penderecki international chamber music competition, Poland.
His activity in music is not only as a soloist, but also as a chamber musician performing with groups throughout Europe such as the Smash Ensemble (Spain) and the Research Ensemble (U.K) as well as working alongside musicians from Ensemble Modern. As a pedagogue he has given classes and workshops to musicians around the world (Columbia University, New York, CNR Strasbourg, France, Cork University, Ireland, Leeds University, U.K and Napier University Edinburgh), an activity that he sees as vital to the music of our time.