press reviews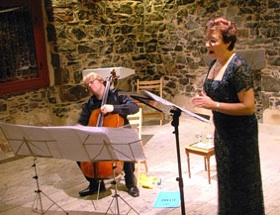 Salmon Bothy's concert hit
Salmon bothy's concert hit
Banffshire Journal
extract reproduced with permission

Portsoy salmon bothy hosted its first public event last week, when the upstairs room hosted a concert of contemporary music – including a world premiere, with the composer herself in the audience. The concert was brought to the bothy as part of the North-east's sound Festival of New Music.
The old stone walls and heavy roof beams echoed to the brilliant voice of modern soprano Sarah Leonard, and cello accompanist Robin Michael. Among the programme of modern songs was the Tongue and the Heart, by Nicola Lefanu, and Lefanu herself was in the audience to hear her work performed for the very first time.

Extract reproduced here with kind permission of Scottish Provincial Press.