press reviews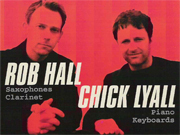 Rob Hall & Chick Lyall
lunch break concert - Rob Hall & Chick Lyall
Written by Alan Cooper
reproduced with permission
lunch break concert - Rob Hall & Chick Lyall
The Lunch Break series along with sound and its Saxfest were all involved in bringing top flight duo Rob Hall (saxophones & clarinet) and Chick Lyall (piano & laptop/electronics) to Aberdeen. A small but very appreciative audience attended Friday's lunchtime concert that included two world premieres along with new pieces from their latest CD and three improvisations, two of those featuring laptop electronics.
Carousel by Rob Hall and the slow middle section of Three Movements for Sopranino Sax by Chick Lyall both featured the transparent smooth-soaring sounds of that rarer member of the sax family. Both, though not jazz in the strict sense of the term, had definite jazz-inspired influences; fresh sounding and wonderfully fluent in the case of Carousel, more pensive and with a midnight bluesy feel in Chick Lyall's piece. Its ambience reminded me just a little of the mood conjured up by Copland's Quiet City.
Beaten Path also by Chick Lyall for clarinet and piano is the title of their new CD. It was a gentle pastoral with an improvisatory-sounding central section for piano. Rhyme or reason by Rob Hall in which he used the tenor sax started gently and thoughtfully before its gathering rhythmic intensity picked up the audience and pulled them along with the music.
The first improvisation had a kind of tropical jungle backing with bird-like sounds and a rattle of castanets that could have been some exotic creature. Clarinet and piano added their vibrant playing to the mix. The secret of really good improvisation is that it should not really sound improvised at all and in their third such piece without electronics the duo knocked the music back and forth like a couple of champion table tennis players and they never missed the ball. It was a delight to watch and to listen to. I have been feeling a bit frazzled this week especially after trying to get parked near the Cowdray Hall on a busy Friday but I found Rob Hall and Chick Lyall's performance both relaxing and refreshing. I would recommend their music as a healing influence for a stressed out world.
published on 31 October 2008
written by

Alan Cooper

 



Original article reproduced here with kind permission.