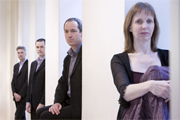 Smith Quartet
Violins: Ian Humphries, Darragh Morgan. Viola: Nic Pendlebury. Cello: Deirdre Cooper.
For almost twenty years the Smith Quartet has been at the forefront of contemporary music. They have built an impressive repertoire by many of the world's most exciting composers and have established an international reputation for their dynamic style and original approach to contemporary music. The quartet is dedicated to the commissioning of new works and to date have over 100 works written especially for them. Kevin Volans, Django Bates, Michael Nyman, Stephen Montague, Gavin Bryars, Michael Daugherty and Howard Skempton are amongst many who have written for the quartet. In addition to regular broadcasts with the BBC, they have featured on numerous CDs including Karl Jenkin's Sony release Diamond Music, Steve Martland's Patrol BMG and most recently Django Bates' You Live and Learn...(apparently) Argo Decca.
In 2005 the quartet released their Steve Reich album on the Signum label, featuring Different Trains, Triple Quartet and Duet. The album received rave revues from magazines, radio stations and papers alike. Their new CD Ghost Stories on the same label was released in 2007. Future recording projects include albums dedicated to the music of Philip Glass and Kevin Volans.
The quartet's touring schedule has taken them as far a field as North and South America, South East Asia and Japan as well as throughout Europe and the UK. In the last number of seasons festival appearances have included Les Jardins Musicaux Switzerland, West Cork Chamber Music, Musica Viva Festival in Lisbon, Huddersfield Contemporary Music Festival, Vancouver Festival, la biennale di venezia, Jauna Muzika Vilnius, L'itineraire de Nuit Paris, Vale of Glamorgan and the Flanders Festival Brussels. Highlights have included a sold out performance at the BBC's John Adams Weekend at the Barbican and the European premiere of Steve Reich's Triple Quartet at Cheltenham International Festival. They have collaborated with an eclectic range of artists such as Django Bates, Andy Sheppard, John Harle, Gerard McChrystal and dance companies Siobhan Davies, Shobana Jeyasingh and Ultima Vez.
Much of the quartet's repertoire involves the use of live electronics and multimedia. It has, over the last few years, enjoyed a fruitful relationship with Soundintermedia, their sound designers. This collaboration has helped the ensemble take their music to a variety of extraordinary venues including being suspended 60' above the tracks of Koln's Haupbahnhof. The use of electronics and multimedia has also helped develop a new repertoire that challenges the perceptions of the more "traditional" role of the string quartet.
In 2005, the Smith Quartet appeared in BBC 2's Holocaust - A Music Memorial Concert from Auschwitz filmed on location in Auschwitz. They performed Steve Reich's Different Trains and Messian's Quartet for the End of Time. The film marked the 60th anniversary of the liberation of Auschwitz and was shown in many countries throughout the world. It has won numerous prestigious awards including a BAFTA and an Emmy in 2006.
The quartet is currently enjoying a number of prestigious residencies in their 2007/2008 season including an ongoing relationship with Queens University Belfast as their quartet in residence at the Sonic Arts Research Centre (SARC) and an exciting series of concerts throughout Europe featuring the music of celebrated Portuguese composers as part of Miso Music's Circuits tour. As artists in residence at the 2006 Huddersfield Contemporary Music Festival, they performed all of Morton Feldman's works for piano and strings together with the celebrated pianist John Tilbury.
Future highlights include concerts in Sweden, Spain, Germany and Italy, tours to South Africa, Korea and Hong Kong and appearances at the Cheltenham, Huddersfield and Oxford Contemporary Music Festivals.