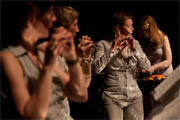 Scottish Flute Trio
The Scottish Flute Trio - Ruth Morley, Laura Bailie and Janet Larsson
Since 1994 the Scottish Flute Trio has performed at many leading festivals including the Huddersfield Contemporary Music Festival, Edinburgh International Festival (which was broadcast live for Radio 3), Warwick and Leamington Festival, Warwick Festival, Dunkeld and Birnham Festival, Edinburgh's Hogmanay, Windermere Flute Festival and the British Flute Society International Convention.
The trio premiered Gordon McPherson's Bloodshake (concerto for 3 flutes) in 2004 with Paragon Ensemble at Mansfield Traquaire in Edinburgh and have also toured Scotland for Enterprise Music Scotland as part of their New Music Initiative. They have put the sound installation cylinderclouds by Javier Alvarez into the Lighthouse in Glasgow and the Tolbooth in Stirling, and in 2003 commissioned Elizabeth Ogilvie and Joji Hirota to make The Waterfall of Time, a music and Visual Art piece for St Mary's Cathedral in Glasgow.
Other performances include recitals at the Queens Hall (Edinburgh), The Lemon Tree (Aberdeen), RSAMD (Glasgow), Guildhall School of Music (London), Royal Northern College of Music (Manchester), the Tron Theatre (Glasgow), Taigh Chearsabhagh Gallery (North Uist), An Tobar (Mull), The Lighthouse (Glasgow), Culzean Castle, EICC International Tourism Conference, An Lanntair (Stornaway), Skye Arts Guild, Dundee University, The Arches (Glasgow) and The Scottish International Flute Summer School (Perthshire)
In October/November 2007 they performed Bloodshake with the RSAMD sinfonietta alongside a new work by Kevan O Reilly and music by Nigel Osborne for 3 flutes and 'cello at the Tolbooth and at the RSAMD. They also worked with students at Chethams school of music in Manchester on contemporary techniques and in a workshop rehearsal of Bloodshake with the composer.
In 2008 they will unveil the results of a collaborative project with The Curve Foundation Dance Company in a series of performances around Scotland which will include new music by David Fennessy.
The Trio's aim is to commission new work and present all kinds of new music in all kinds of ways to all sorts of people.