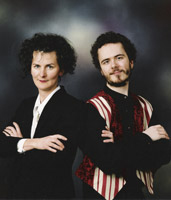 Preston & Long
Preston and Long are a long standing duo who have a particular interest in championing the works of Scottish composers. Their concerts of contemporary music, contain a selection of pieces written by some of Scotland's leading flautist-composers. These are given new, fresh, interpretations by one of the finest duos for this combination in Scotland. Several of these pieces have been given their premier performances by Preston and Long who have performed them individually as focal points, and collectively as a celebration of Scottish Music in programmes through-out Scotland to great critical acclaim:
"Elegant and often dazzling flute playing backed by Joseph Long's sensitive piano touch" Press & Journal
"A highly sensitive partnership… consummate musicality" Monymusk Arts Trust
Their programme is eclectic, drawing on the diverse styles evident in contemporary Scottish music. Not intended as an encyclopaedic collection of this genre, it is more a tantalising glimpse through a window, which has led one critic to comment that: "the audience had been introduced to a garden of music inhabited by some rare and wonderful species."
Margaret Preston - 'Thaisa' by John Hearne
audio clip included with kind permission of Preston And Long
licenced by the MCPS-PRS Alliance for playback on www.sound-scotland.co.uk