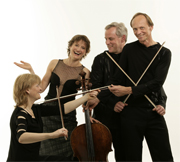 New Zealand String Quartet
With its dynamic performing style, eloquent communication and beautiful sound the New Zealand String Quartet has forged a major career in the busy international chamber music field, earning the acclaim of critics and the delighted response of audiences. The Quartet has particularly distinguished itself through imaginative programming, insightful interpretations of the string quartet repertoire including cycles of composers' music from Mozart to Berg, and the development of an international audience for important new works from New Zealand composers.
Recent career highlights have included acclaimed debuts in London at Wigmore Hall and in New York at the prestigious Frick Collection. International tours and festival successes have taken the group to Canada and the US for twice-yearly visits as well as to Mexico, Korea, Australia, Scotland, Germany and the Netherlands, with debut performances planned in Poland and Czechoslovakia. Much-loved by audiences in New Zealand, the engaging musicians of that country's premier chamber ensemble present over eighty concerts there and overseas each year.
The New Zealand String Quartet has recently brought its interpretative skill to a major project to record all of Mendelssohn's string quartets in a three volume CD set for Naxos. The Quartet has been featured on North America's popular public radio programme St Paul Sunday, and has recorded for Deutsche Welle, CBC in Canada, and Australia's ABC, as well as regularly appearing on Radio New Zealand Concert, the national fine music network. The group's extensive discography includes works from the standard quartet repertoire by composers such as Bartók, Ravel, Debussy, Beethoven, Dvorák, Berg and Wolf, as well as the premiere recording of the remarkable Zoltan Székely quartet, and numerous works by acclaimed New Zealand composers.
Innovative collaborations undertaken by the New Zealand String Quartet have included performances of concertos with the BBC Scottish Symphony, the Auckland Chamber Orchestra and the New Zealand Symphony. They have performed with internationally renowned artists such as Colin Carr, Anton Kuerti, Jim Campbell, Frans Helmerson, Alexander Lonquich, Piers Lane, Nobuko Imai, Hariolf Schlichtig, Christoph Richter, Atar Arad, and Peter Nágy; the Lafayette, Lindsay, Michelangelo and Goldner quartets, as well as jazz greats Mike Nock, Jim Hall and Wayne Marshall.
The New Zealand String Quartet participates regularly in a number of international chamber music festivals, including recent appearances at the Festival of the Sound, Parry Sound, Ontario, Music Mountain in Lakeville, Connnecticut and the Australian Festival of Chamber Music in Townsville, Queensland. Quartet members play a central role in the biennial Adam Chamber Music Festival in Nelson, New Zealand; two members of the Quartet are Artistic Directors of this Festival and the ensemble plays in many of the concerts of the two week event, working with international guest artists. In 2007 these included the Michelangelo Quartet and James Campbell, clarinet.
Dedicated teachers as well as performers, the group has been quartet-in-residence at Victoria University of Wellington, now the New Zealand School of Music, since 1991. In North America they have been artists/teachers-in-residence at the Banff Centre, Quartet Fest West, and The Quartet Program at Bucknell, Pennsylvania