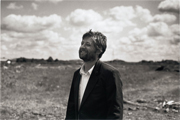 King Creosote
There are well-kept secrets, and there is Kenny Anderson. "Sooner or later bands always move to the city. It's a mistake," Anderson says firmly. Never a fan of the obvious nor the easy, the large musical brain behind King Creosote and the Fence collective still lives, where he was born and raised, in Fife. "Up here, there isn't the competition between bands and their little scenes that you get in cities," he says, noting that for many years King Creosote declined to play outside of his hometown, St Andrews. "I could never see the point in spending so much time and energy travelling far to try and impress so few people into buying my records. My career has been very slow and organic."
If fame were a contagious disease, Anderson would have caught a severe dose of it years ago. From KT Tunstall perhaps, sometime backing vocalist in his first band from the mid 1990's, the faux-bluegrass outfit, Skuobhie Dubh (pronounced Scoobie Doo) Orchestra. Or from his brother Gordon, founding spirit of The Beta Band, and now The Aliens. Or from his Fifer compatriots from Falkirk, the sex miserablists Arab Strap, or James Yorkston, one of Fence's most affecting traditional voices, now signed to the mighty Domino label. He might even have developed a small taste for it from his father Billy, a professional accordion player with the internationally renowned Ceilidh band Albany.
But he never did. Instead Anderson has spent most of the past 20 years honing his musical craft and, since the demise of the S.D.O. in 1996, creating a catalogue of over 600 genius folk-pop tunes, most of which he has released as limited edition CD-Rs through the Fence label. Anderson started out as an accordion player, deeply intrigued by the manner in which Dexy's Midnight Runners used traditional instruments such as his, "but not in a folk way." Since then he has expanded his reach, assuming guises ranging from the canny indie rocker to the Highland balladeer.
Local Scottish media have picked up on the awesome quality of the Creosote sound, one reviewer calling it "the most sublime Scottish folk songwriting since Donovan." When he isn't polishing off another of his own songs on his home 8 track, he spends time encouraging other members of the Fence community - in the main, mates and family members from Fife who share his passion for music of genuinely independent spirit, and his fondness for quirky names. (The Pictish Trail, Midget Squid, HMS Ginafore etc.)
There have been numerous attempts in the past to winkle Anderson out of his cosy Scottish habitat. Domino's Lawrence Bell spent time wooing the fence collective in their tiny seaside HQ of Anstruther before he hooked up with Glasgow's Franz Ferdinand. The indirect result was 2003's Kenny and Beth's Musakal Boatrides - Anderson's 25th album and the first to find its way into the homes and hearts beyond the Fife area.
Things started to really motor in 2004 with the fabulous Rocket DIY album, after which Anderson finally agreed to raise the stakes. In 2005 he contracted KC's music to the 679 label, a subsidiary of Warners, with grander designs than the stubbornly rustic boutique ethos of Fence. King Creosote's first album for 679, KC Rules OK, followed later that year. Backed by label mates The Earlies, KC Rules OK earned widespread critical acclaim with The Telegraph hailing Anderson's latest work as "edging towards classic territory" whilst Word agreed that "KC Rules OK is an emphatic KO." Anderson was clearly making progress in moving from the realms of fringe-folk and into the mainstream.
King Creosote's finest hour, the new album Bombshell, emphasises that change ever more dramatically. Either as an introduction, or as a further instalment in an extraordinary tale, this 13 track portfolio reveals everything you need to know about Anderson's maverick musical personality - right down to the influence of brother Gordon, who helps out on several tunes. Opening with the first song he wrote as King Creosote - the sepulchral accordion-led Leslie - Bombshell is an album of every mood known to 21st century man. Highlights include the propulsive You've No Clue Do You, the best country rock highway driver the Eagles never wrote ("they couldn't have managed the Fife accent nor the lyrical puns on Cluedo"). At the other end of the Creosote spectrum is And The Racket They Made, a shimmering, hymnal duet sung by Anderson written by fellow Fencer HMS Ginafore. Between these polarities, there is menace aplenty in the title track, and a healthy slice of romantic self-mockery - Anderson's default mode as a lyricist - in Cowardly Custard.
Listen harder and most of the songs here turn out to have their roots in KC's Fife life: Church As Witness is based on an argument Anderson had whilst out cycling with his daughter. "Most of what I write is based on relationships with my family, friends, girlfriends … It's emotions that seem to get me thinking." And what a lot of thinking there is here too. At no point does the album repeat itself nor lose its wonderfully intricate plot.
"The idea this time around was to make the songs sound bigger, and more accessible," is Anderson's summary of his 2007 agenda. "I'm not leaving home, but I am getting out a lot more." As he speaks, he has just returned from a gig in Brazil. For King Creosote the old 'think local, act global' mantra is fast becoming a reality.