photograph © Iain G Farrell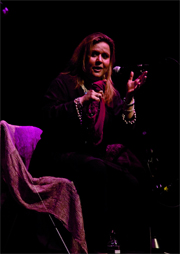 Reem Kelani
Palestinian singer, musician and broadcaster Reem Kelani released her debut album "Sprinting Gazelle - Palestinian Songs from the Motherland and the Diaspora" (Fuse Records) in February 2006 to critical acclaim. Representing the culmination of twenty years' work, which included research in Palestine, in Palestinian refugee camps and the Palestinian Diaspora into old traditional songs, Sprinting Gazelle is a fully independent production. The excellent reviews which the album has gained and which continue to flow in from across the globe are testament to its quality.
Having spent many years touring and working with musicians from the countries she visited, Reem has focussed her efforts in the UK on working with non-Arab musicians and introducing more of them to Arabic and Palestinian music.
Reem's music works as well with an Arab audience (through her observance of the conventions of classical Arabic singing, the precision of her language and the authenticity of her research) as with non-Arabs (through the quality of the music, the structuring of the band around a Jazz rhythm section, the carefully researched sleeve notes and translations).
Instead of militant lyrics, Reem's decision to sing traditional songs or songs based on the poetry of well-known Palestinian poets is a simple and yet powerful affirmation of the existence of a Palestinian cultural identity.
Reem has built up an impressive following at grassroots level across the UK, through her work with schoolchildren, women's groups, youth groups and community choirs.
Reem is also a regular broadcaster. She wrote and presented 'Distant Chords' for BBC Radio Four, featuring the music of migrant communities in the UK (Afghan, Yemeni, Kurdish, Armenian, Micronesian and Portuguese). Other programmes also include presenting 'A Day in the Life of a Palestinian Woman' and 'In Praise of God' for BBC World Service. More recently, she presented "Salome: Dance of the Seven Veils" on BBC Radio 4.
Manchester International Festival commissioned Reem in early 2007 to compose music for and to rehearse the 'Beating Wing Orchestra' comprised of locally based refugee and migrant musicians. The work "Paradise in Strangers" was premiered in July 2007 and was a great critical success.
Reem's next CD project will be a tribute to the great Egyptian composer Sayyid Darwish (1892 - 1923).
***
Reem Kelani was qualified as a biologist in 1986 at Kuwait University. Upon her graduation and before switching to a full-time career in music, she worked for two years as an assistant marine researcher for Kuwait Institute of Scientific Research (KISR) and two years in research management for the Vice Rector of Research at Kuwait University. Reem is also a literary translator: she assisted her father Dr. Yousef Kelani in the English-Arabic translation of Manfred Ullman's seminal book 'Islamic Medicine' in 1980 and she currently works with the likes of literary editor and historian Dr. Salma Khadra Jayyusi. The sleeve notes of Reem's debut CD are another example of her translation work.