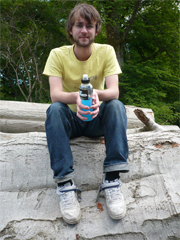 Patrick Keenan
Patrick Keenan is a composer and percussionist working within various genres in the North East of Scotland.
He has performed regularly in an improvising duo across Britain playing Live Electronics and performs regularly as a percussionist and drummer in various ensembles and groups.
He graduated from the University of Aberdeen with a First class honours degree in music and is currently completing his Masters degree in composition.
He has been the recipient of many awards and scholarships including the Chris Cadwur James Memorial prize, the Ogston Postgraduate Scholarship and the James Milne Memorial Trust Grant. He was also recently awarded a CASS Scholarship enabling him to begin Phd studies specialising in multi channel electroacoustic music.