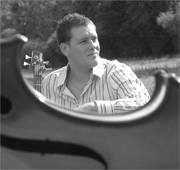 Michael Janisch
Since arriving in London from his native USA in 2005, Michael Janisch has rapidly established himself as one of the leading and most versatile acoustic/electric bass players in the country. Although known mainly as a jazz player, he is increasingly being sought after by musicians of all genres for his ability to adapt to any musical situation with ease, while bringing a "joyous, warm presence to any band he plays in," (Bass Player Mag.com).
An alumnus of Boston's Berklee College of Music (where he was awarded a full scholarship and cut his teeth playing at many of the cities top jazz clubs such as Ryles, Regatta Bar, and Walley's, the latter under the tutelage of trumpeter Darren Barrett), Michael has studied privately and institutionally with some of the world's top bassists, including Ray Brown, Christian McBride, Abraham Laboriel, Bertrum Turetzsky, and Dave Santoro.
Described by JazzWise magazine as a "muscular, fluent jazz player with an irresistible pulse and virtuosic soloing technique," his jazz resume includes many internationally renowned musical visionaries: most notably Joe Lovano, Roy Hargrove, Hal Crook, Dianna Reeves, Mark Turner, Joe Locke, George Garzone, Shirley Horn, and Clark Terry, among many other emerging artists on both sides of the Atlantic. His credentials also include performances at the Blue Note, Carnegie Hall and The Hollywood Bowl, the Marciac, North Sea, Singapore, Vitoria, Umbria, and Monterey Jazz Festivals, as well as a stint playing in a Jazz Philharmonic Orchestra under the direction of Quincy Jones at Paramount Studios in Los Angeles.
In the UK, Janisch has had the privilege to work with many of the country's world renown jazz artists, such as Tommy Smith, Jason Rebello, Tony Kofi, Gerard Precenser, Christine Tobin, Dennis Rollins, Jean Toussaint, Phil Robson, Ray Gelato, Jim Mullen, Tim Garland, Julian Siegel, as well as some of the most exciting emerging musicians: Gwilym Simcock, Jim Hart, and Soweto Kinch.
Currently, Michael divides his time between an impressive array of musical genres, from classical ("his bowing is a delight," raves Jazz-Review), to big bands, to soul and r&b, working with many artists from across the globe. In recent years, his playing has also become in-demand in the world of session and studio music for radio, film, and television. Some highlights have included appearances on various BBC Music Documentaries, MTV Europe, The Tonight Show, The Brit Awards, and The Michael Parkinson Show.
During the last two years, Janisch has become "increasingly influential" (John Fordham, JazzUK) at promoting grass roots jazz and other music events around the UK, Europe, and the US. Since 2005 he has self-organized and promoted 5 successful tours (some 20 + dates in length), residencies and many other smaller scale events to rave reviews by the press with musicians from both Europe and the US. Furthermore, as a means for continuing ongoing cross-continental musical relationships, he formed The TransAtlantic Collective with award winning alto saxophonist and composer Patrick Cornelius from New York City in 2005 in order to bring together the many emerging new artists of his generation from his native United States, the United Kingdom, and Continental Europe.
Still in his twenties, Michael has had the honor of recently being awarded the 2007 "Young Jazz Musician of the Year Award" by the Worshipful Company of Musicians (England's oldest craft guild devoted to performing arts that has been working on behalf of musicians for over 500 years) at the Pizza on the Park Jazz Club in London's fashionable Knightsbridge district. He has also recently joined the Royal Academy of Music's teaching roster as Professor of Acoustic Jazz Bass, and endorses Innovation brand bass strings exclusively.
"One of the UK's most exciting new Improvisers with percussive, Mingus-like power"
The Guardian
"always hip, melodic, and bouncy"
The Times of London