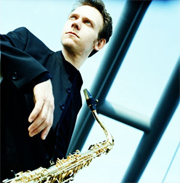 Rob Hall
After gaining a music degree and diplomas at Manchester University and the Royal Northern College of Music, Rob won a scholarship worth half fees to study at Berklee College of Music USA specialising on both saxophones and clarinet. Tours, performances and recordings, including radio and television, have taken him across the UK, Europe and USA.
Rob has performed/recorded with Mike Stern, Dan Gottlieb, Kenny Wheeler, Jim Mullen, Julian Arguelles, Philipp van Endert, Simon Thoumire Orchestra, Anne Martin, Ingrid Henderson, Matthew Herbert, Chick Lyall, BBC Scottish Symphony Orchestra, Scottish Ballet, Paragon Ensemble Scotland and many others. Festival appearances include Edinburgh International and Jazz festivals, Bath, Cheltenham, Celtic Connections, Prague International, BBC Proms as well as being a featured artist at Liverpool Jazz Festival, the Highland Festival, and the Glastonbury Festival Jazz Stage.
His debut CD Open Up (FMR), which features guitarist Jim Mullen, attracted much media attention and excellent reviews. A 2nd CD release Heading North (FMR) has enjoyed similar success. Broadcasts, both recorded and live, have included BBC Radio2, BBC Radio3, JazzFM, BBC Scotland. In 2001 Rob was commissioned by the Highland Festival to collaborate with visual artists John McGeogh (video) and James Hawkins (artist) with a subsequent recording. Rob's 3rd FMR recording Free-world Music with his innovative and experimental quartet Freewheelers was released in July 2002. 2005 saw the release of The Beaten Path (FMR) with pianist/composer Chick Lyall.
Rob is committed to jazz education and runs a number of projects including Jazz Course UK running short jazz courses in various venues, The Music Workshop -an education venue in rural Scotland and the Sound:Base education project in Glasgow. He has lectured in jazz and is an ABRSM Jazz examiner. From 2001-2004 Rob was Artist in Residence with WEA Scotland. Rob is an active composer and has written music for large and small ensembles and solo works.