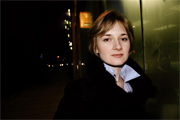 Katarzyna Glowicka
Katarzyna Glowicka's (1979, Poland) artistic output embraces musical media of all types, collaborating with stage directors, choreographers, visual artists, musicians and conductors on original works for opera, dance and symphonic orchestra distinguished by her force of expression and colour. Her works have all sought out a unique language which she complements through use of the computer as both a musical instrument and compositional tool.
Her works have been premiered by renowned international ensembles and soloists including Ensemble Recherché, Holland Symfonia, the Netherlands Vocal Laboratorium, Ensemble 'de Ereprijs' among many others. The chamber piece Microgalaxies was commissioned and performed at the Wien Modern festival while other compositions have been performed at the Biennale di Venezia, Warsaw Autumn, 'De Suite at 'Ijsbreker, and Gaudeamus Music Week. Her works have received recognition at many national and international competitions.
Katarina graduated in Poland under her mentor Grazyna Pstrokonska-Nawratil before pursuing postgraduate studies in The Hague under Louis Andriessen. Her strong belief in the new computer mediums have taken her to Northern Ireland where she currently is a PhD candidate at the Sonic Arts Research Centre under Prof. Michael Alcorn, where she focuses on compositional systems.