photograph © Sophie Dennehy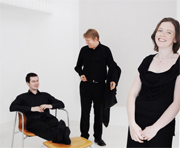 Fidelio Trio
The Fidelio Trio are Darragh Morgan, violin, Robin Michael, cello and Mary Dullea, piano.
This young Irish trio performs extremely diverse repertoire throughout Europe, Asia and South Africa and frequently broadcasts for BBC Radio 3.
Since their South Bank debut they have appeared at FuseLeeds, Reggello Festival (Italy), West Cork Music, Belfast Festival at Queens, the Royal Opera House, London, Corsham Festival, Musica Viva (Portugal) and the Composer's Choice Series at the National Concert Hall, Dublin.
CD releases include Haflidi Hallgrimsson chamber music for Delphian Records, Joe Cutler chamber music for NMC, Volans, Gribbin, Dennehy and Ed Bennett also for NMC and their own innovative series of Pop Archive releases with Volume 1 including music by Led Zeppelin, the Cocteau Twins, Brecker Brothers, Joni Mitchell and Miles Davis.
The Fidelio Trio have worked closely with many leading composers including Michael Nyman, Toshio Hosokawa, Rolf Hind and Howard Skempton and have premiered music by Salvatore Sciarrino, Edison Denisov, Beat Furrer and Toru Takemitsu.
In 2008 the Fidelio Trio will become Music Network artists, touring Ireland. They are recipients of awards from PRS Foundation and the Arts Council of Ireland. Active in the field of education, they have worked with composition and string/piano students at the Royal Scottish Academy of Music and Drama, Royal Welsh College of Music and Drama and Birmingham Conservatoire.